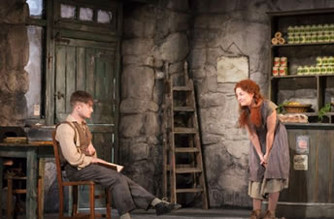 The Michael Grandage season at the Noel Coward Theatre is proving to be in demand from theatre audiences and a great success with rave reviews of all three plays so far. With the very best production teams and cast members performing in such a beautiful theatre, I was lucky to be able to purchase £10 tickets for Peter and Alice starring Judi Dench and Ben Whishaw (my review here) and the third play in the season – The Cripple of Inishmaan.
The Cripple of Inishmaan has received an enormous amount of press as it stars Daniel Radcliffe, once again out of his comfort zone portraying a 'cripple' called Billy – an orphan, obsessed with reading and watching cows and living in an Irish village full of colourful characters. Although Radcliffe has been receiving all the headlines, this is very much an ensemble piece, with a fantastic Irish cast all providing plenty of laughs.
The village is used to lots of big new stories being spread around the inhabitants by notorious gossip Johnniepateenmike, such as a cat attacking a goose and eggs being broken, but one day an American film crew arrives to make a film on a nearby island and Billy persuades a local sailor to take him across so that he can possibly be an extra. Much to the whole village's surprise, Billy is taken off to America for a screen test which could change his life forever...
The Cripple of Inishmaan is an hilarious, clever play. There are lots of red-herrings as the audience tries to find out the truth about both Billy's trip to America and ultimately about his parent's mysterious and tragic deaths. Although darkly funny and politically incorrect, with some amusing stereotypes and use of language, there are some really heart-warming and poignant moments.
The whole cast cannot be faulted. I particularly enjoyed performances by Sarah Greene and Conor MacNeill as quarrelling siblings Helen and Bartley, obsessed with throwing eggs and eating imported American sweets respectively. Laughs also come from Billy's two 'aunts' who have adopted them as their own to live in their shop which just seems to stock tins of peas and one of whom has a penchant for talking to stones when she is worried. But the play belongs to Daniel Radcliffe as he shuffles around the stage with an impressive Irish accent. This is a very committed and impressive performance – just halfway through the first act, I completely forgot that this is the child actor we watched grow up as Harry Potter for over 10 years. He has matured into a brave, risk-taking and very accomplished actor and he very much deserves his solo bow at the end of the performance, even though he looked embarrassed at being singled out from his extremely talented cast members.
I would really recommend catching this wonderful play before it closes at the end of August – a fantastic set, wonderful cast, big laughs and a lot of heart – what more can you ask from a West End production?!