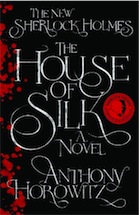 I have been wanting to read the 'new' Sherlock Holmes novel for a while, but was afraid that it would not live up to the original stories. I was so wrong! This book is clever, thrilling and captures the characters of Holmes and Watson perfectly!
My initial thought was, 'why would a Holmes case only come to light now?', but this is explained really well in the book and all makes sense with the final revelation. This particular story is locked away in a vault for one hundred years at Watson's request and when the shocking truth emerges at the end of the book, you can see why Watson would have had to have kept this story secret and also the fact that Victorian London would not have been ready to deal with such a vile case.
A gentleman arrives at 221B Baker Street to see Holmes with reports of being stalked by an American man who he has previous history with on business in America. His house is soon burgled and Holmes and Watson are sent on a trial across London from hotels, prison, seedy inns and an all boy's school for the homeless to a circus. There are lots of set-pieces which feel familiar from the original Holmes novels and of course all the usual characters are present.
Holmes is missing from the action for a large chunk of the action and we see Watson shine. He is forever saying that Holmes would have seen something different and learnt more from him, but we see what a great partner he really is and how much Holmes means to him.
This novel twists and turns and is very cleverly written. I really had no idea what was going to happen. There is page-turning action, humour, great new characters, a gripping mystery and a real sense of Victorian London. I really hope that Anthony Horowitz comes up with some more forgotten tales of the gentleman detective.